A terrace. Who needs this part of a house and what for? How wonderful at times it is to spend time on a terrace, when the weather is nice and sunny. You will hardly find a person who will not enjoy setting up a wooden samovar and drinking fragrant tea on the terrace. You can set a table and relax with your family or friends outdoors. A light breeze brings smells from a nearby meadow or from a forest, and the singing of birds accompanies evening gatherings. From a balcony you can also take in a view of the surroundings.
In general, a balcony and a terrace in a country house is a place of active pastime. The railing of such spaces serves you as a support a barrier, so that if you walked out onto the terrace and accidentally stumbled, you would not fly for another couple of meters from the balcony of your country house and your holiday would not continue in a hospital bed.
A country house is foremost a corner of your life, which you aim to set up in a way that will let you relax completely, not just for your body, but also for your soul. When we organise such spaces, we always try to create harmony in every little thing. To create a certain style from landscape design to the interior and exterior of the house. We try to make sure that even a chimney matches the atmosphere of the country house, which you imagine and create for yourself.
The railing of terraces and balconies should complement the fundamentality and epic nature of wooden houses, primarily those handcrafted from logs with thickness of up to a quarter of a metre, in which you can notice the freshness of trunks, while manual debarking and a properly chosen wood coating accentuate their texture that is woven from the finest lace of time and nature in the growth rings of cuts and knots. Or in the architecture of traditional Norwegian frame houses that is imbued with the entire history of the northern people and their epiс poetry.
Terrace railing can be sturdy, hewn as a part of a house ensemble, an extension of a solid log house structure.
It can be an addition made of carved pillars and planed balusters, intentionally nonchalant, so as to emphasise the austerity of a house. As if it had grown together with a neighboring forest a couple of centuries ago.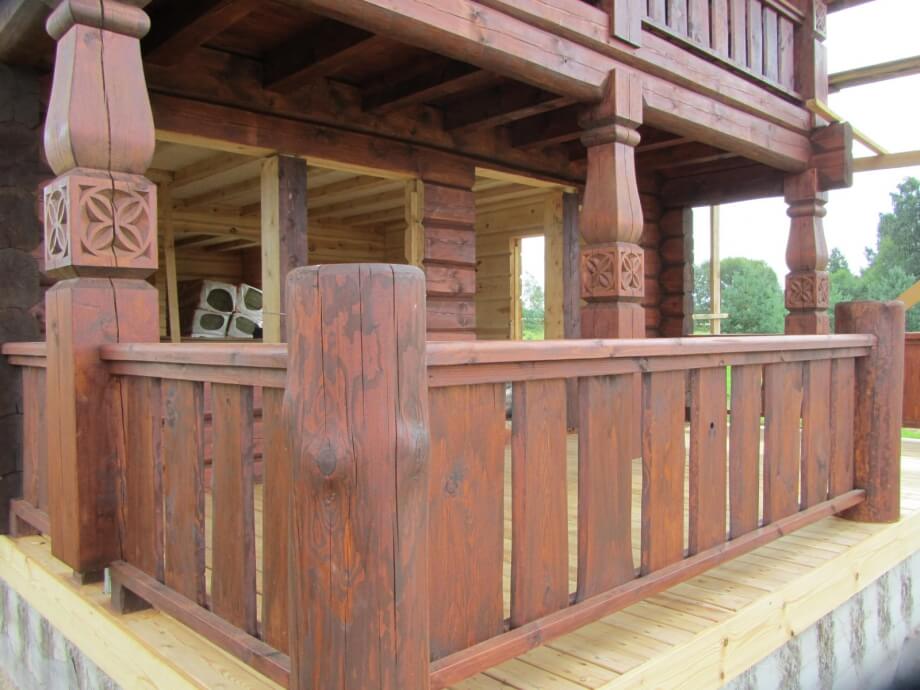 It can be light, in the form of posts and handrails. Such balusters do not weight down the exterior of a house. These structures create a feeling of lightness of a balcony or a terrace.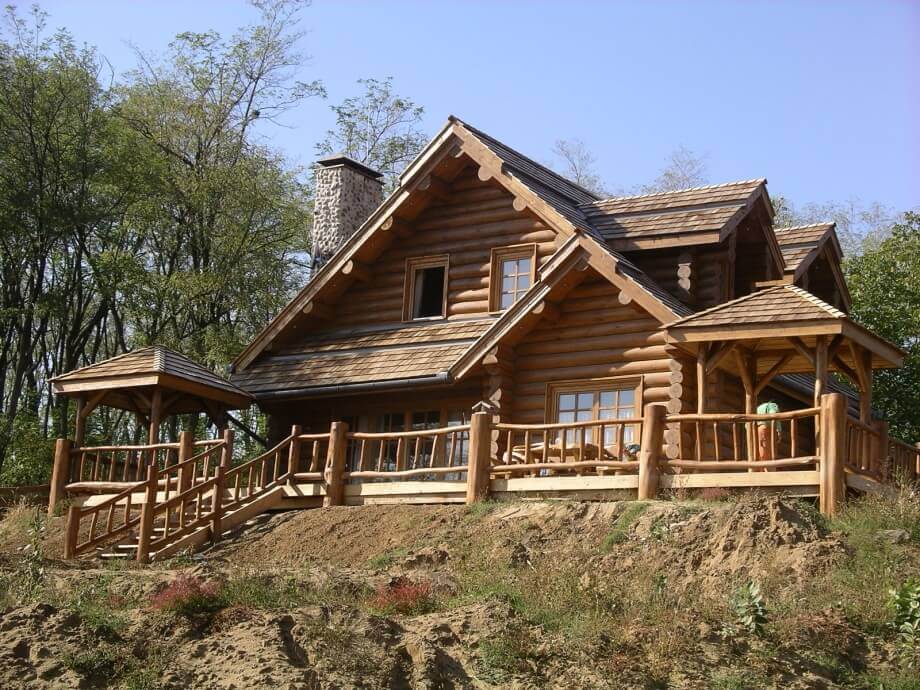 The North House company has extensive experience in creating structures for terrace and balcony railings of any complexity. We can satisfy all your preferences. We will help you to create a feeling of home and comfort in your country haven.