Exterior stairs in wooden houses, log bathhouses and cottages are used only in those cases when a house, bathhouse or cottage is built on a foundation, whose edge is much higher than the ground level. Of course, sometimes it is the terrain that makes it impossible to build a house on the ground level. Perhaps, you have decided to have a basement with a garage and build the house above it. A slight elevation of foundation above the ground might protect your wooden house from splashes, earth, cut grass and water in bad weather.
To make it easier to enter a house, people created stairs. It is important to distinguish interior and exterior staircases. There are no structural difference between them. Stairs usually consist of inclining portions that are parallel to each other and perpendicular to the ground (risers), and horizontal steps (threads). Exterior stairs (a porch) are also a place of relaxation and can serve as an extra design element in the exterior of the house.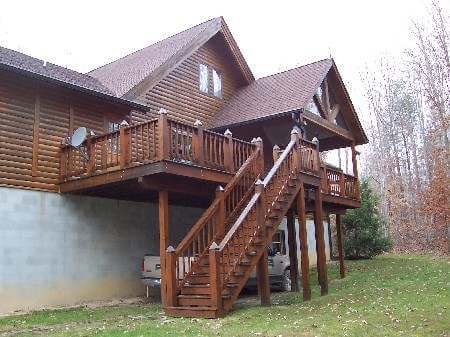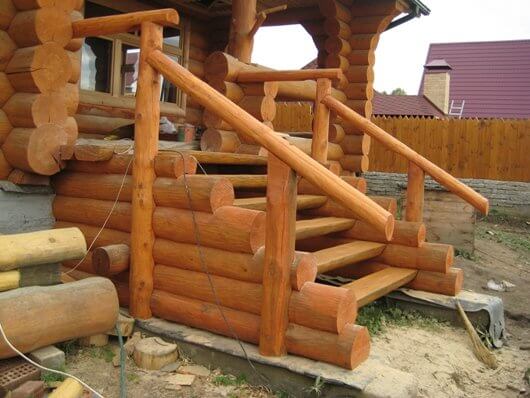 Choosing an exterior staircase construction
When choosing an exterior staircase construction and building it, you should always remember that outdoors is a hostile environment for any construction material. Due to precipitation, it is necessary to build a staircase, connecting grooves and contact points of its details in such a way, so that there are no areas where moisture can collect and stagnate. When building exterior stairs, it is important to also consider their bearing capacities. After all, they are subjected to heavy loads. In the end, an exterior staircase should look good and complement the overall exterior of the house.
The North House company has extensive experience in building wooden stairs using Canadian and Norwegian methods. The experience of our craftsmen and excellent execution make it possible to create staircases in log houses, wooden houses, frame houses, bathhouses and cottages, and exterior stairs, taking into account all particularities of wooden construction.
You can read more about exterior stairs in another article on our website.